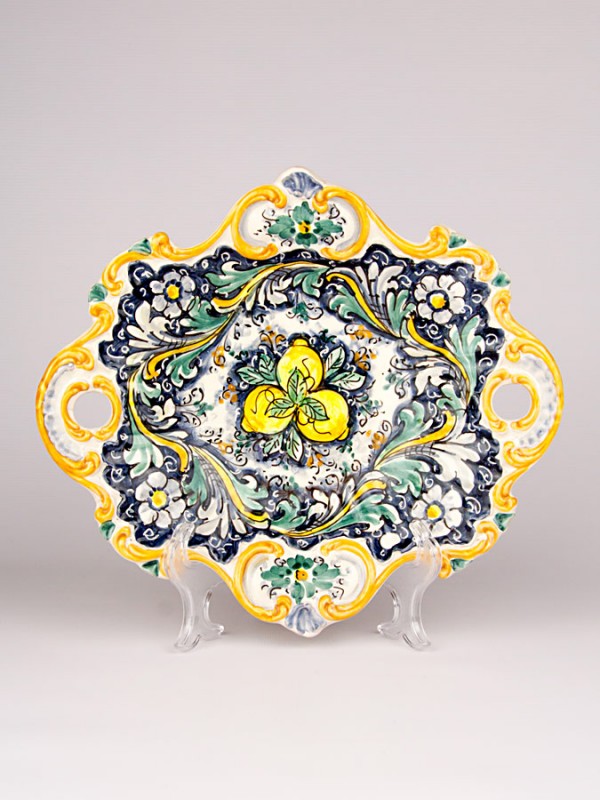 We have been active since 1991 and our production of potteries is inspired by Byzantine, Spanish and Arabic motifs, paying attention to impressing in each item a personal and distinctive style, by means of the innovation of ancient decorations.
The utilisation of particular colorations such as copper green, orangy yellow or cobalt blue to decorate our products guarantees a high standard of quality and, above all, of unicity.
Our producion includes crockery, plates, vases and decorative objects. We also realise tiles for brick kitchens, panels, tables and unique pieces such as stoups, anthropomorphous lamps and votive images.We are also happy to support our customers with our experience in order to make their ideas come true!
Moreover, we are glad of the fact many of that our creations belong to several collectors and ceramic lovers. A few years ago, famous designers Dolce and Gabbana showed so much their appreciation for our production that they chose it as an example of sicilian handicraft.
Caltagirone
Different countries who dominated Sicily across the centuries ended up influencing its art and handicraft; Caltagirone is at the same time guardian and promoter of this tradition thanks to the Regional Museum of Ceramic and the civic Institute of Art.
In accordance with this role, protected and relaunched by local artisans' creativity, Caltagirone is the proud holder of the title of "City of Ceramic".
THE STAIRCASE
S. Maria del Monte's Staircase, made of 142 steps, is over 400 years old and 45 metres high. On each step a cladding in majolica is posed to reproduce decorations inspired to centuries from the X to the XX.
Each year, on 24th and 25th of July, around 4000 oil lamps of different colors are lightened on the staircase, in order to form a traditional design made of light.